Maskking has a history of pushing its boundaries of product innovation, and this latest Axi 12000 disposable vape is also no exception. This e-cig, which remains unnamed in your request, showcases a range of marvellous features that make it stand out in the world of vaping.
Maskking

Axi 12000

Brief




Axi 12000 is known for its cost-effectiveness, impressive capacity, and long-lasting lifespan. With a generous 22ml e-liquid volume, it offers an astonishing 12,000 puffs of consistently intense flavor. Coupled with its innovative dual mesh coil, Axi 12000 ensures that your vaping experience is nothing short of exceptional, delivering unparalleled taste from the very first puff to the very last. The internal smart LED keeps every change of e-liquid and battery under control. You don't need to worry about that the devices suddenly runs out anymore.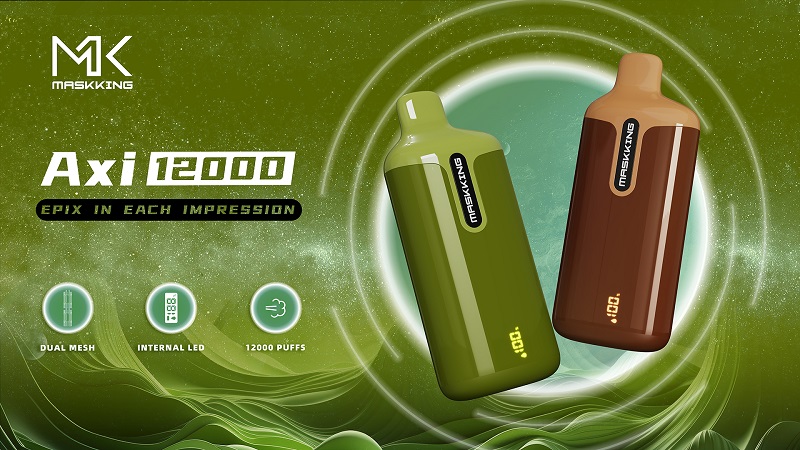 Maskking

Axi 12000

Specifications




Puffs: 12000
Battery Capacity: 600mAh
E-juice Capacity: 22ml
Nicotine: 2% & 5%
Resistance: 1.2Ω
Size: 106.4*43.75*23.94mm
Weight: 73g
Maskking Axi 12000

H

ighlights
Internal Battery and E-Liquid Indicator




One of the key features of Axi 12000 is the inclusion of a real-time battery power monitor and an e-liquid indicator which significantly elevate the user experience. The indicator offers a clear view of both your battery life and e-liquid levels, ensuring that you're never caught off guard. This information is invaluable, particularly for vapers who tend to forget to recharge their device. The volume indicator provides a clear display of both your battery life and the level of e-liquid, guaranteeing that you're always well-prepared.


Dual Mesh Technology for Superior Throat Hits
What truly sets this e-cigarette apart is its innovative use of dual mesh technology. Alternating between two mesh coils promises stronger throat hits and guarantees that each puff delivers the best flavor possible. It ensures that you can get a consistent, satisfying experience from the first puff to the very last which brings a new level of consistency and flavor quality to your vaping experience.
Impressive E-Juice Capacity




With a generous 22ml e-juice capacity, this Axi 12000 is built to last for a long time. For those who are cost-conscious, this is quite perfect for them. The 12000 puff count is nothing short of impressive, offering long-lasting enjoyment.
Maskking Axi 12000 Flavors




Whether you crave the sweetness of fruits, the richness of dessert, or the freshness of mint, you can always find your beloved flavor in all 17 flavors. Each puff is a journey through a world of taste, carefully crafted to delight your senses, including Strawberry Kiwi, Green Grape Lime, Passion Fruit Kiwi Guava, Mint Ice, Mango Black Currant, Forest Berries, Watermelon Ice, Watermelon Bubblegum, Pineapple Peach Mango, Banana Ice, Strawberry Yakult, Strawberry Watermelon, Pomegranate, Raspberry Lychee, Strawberry Grape, Grape Ice, and Raspberry Cherry.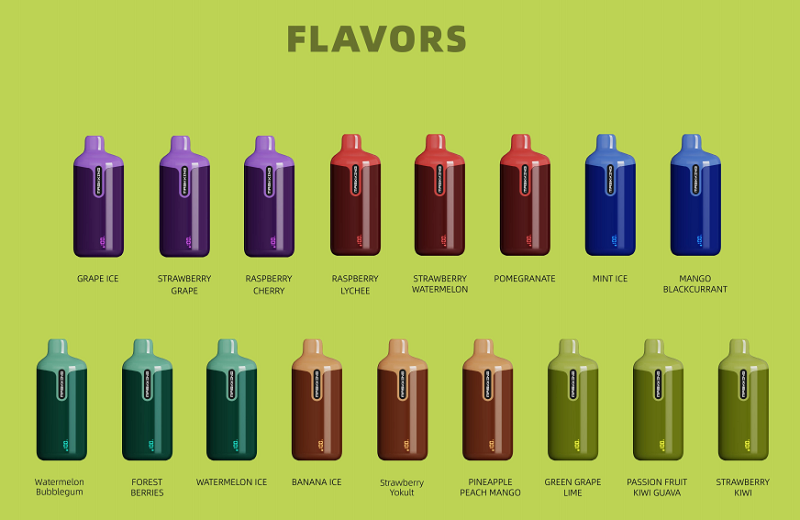 Conclusion
In conclusion, this rechargeable e-cigarette has been an absolute joy to use. Its smart features, innovative dual mesh technology, and impressive e-juice capacity showcase the dedication to providing vapers with a top-notch experience. If you're looking for a vaping product that combines smart design and innovation, this one is definitely worth considering.