This holiday season, Maskking is delighted to unveil a festive treat for vaping enthusiasts with the Axi 12000 Christmas Exclusive Collections. Maskking is proud to introduce a groundbreaking product that captures the essence of Christmas, setting the stage for an extraordinary holiday experience. To celebrate Christmas, we have prepared two Christmas collections, the Axi 12000 Christmas Limited Editions, and the Axi 12000 Christmas Limited Gift Set.

Maskking Axi 12000 Christmas Exclusive Collections:

Maskking Axi 12000 Christmas Exclusive Collections are a celebration of Christmas and surely, it would be the best Christmas gift for vapers. Let's explore the enchantment of Maskking Axi 12000 Christmas Limited Editions.
Firstly, let's break down the packaging design. It's meticulously crafted to capture the very essence of Christmas magic, making it an ideal choice for personal enjoyment or as a thoughtful and creative gift for people who vape during the holiday!
Besides, the allure of this special edition extends beyond the exceptional product appearance design, as Maskking adds Christmas elements in their product design that enhance the joy of the festival. Delight your senses with the innovative design elements that make each product a work of art, combining style and functionality in perfect harmony.
And, the surprises continue beyond that. Maskking try to let your taste buds dance with the three new Christmas flavors, ie, Christmas Wine, Candy Cane, and Gingerbread, where every puff is a journey through the festive spirit.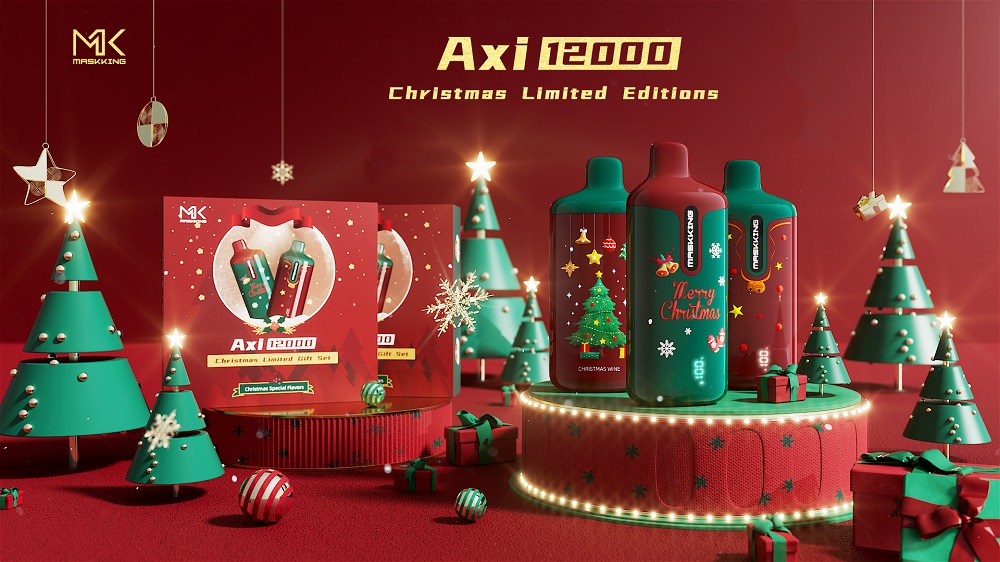 For Axi 12000 Christmas Limited Gift Set, in addition to the Christmas Limited Axi 12000 within, the gift box is thoughtfully adorned with a stylish keychain and a colorful lanyard, adding extra elegance and functionality to improve your overall experience.
So, this Christmas Limited Gift Set is a celebration of design ingenuity, ensuring your holiday moments are wrapped in elegance, adorned with beauty, and flavored with the magic of the season.
Each set includes:
Axi 12000 with 2 Christmas Limited Flavors, Christmas Exclusive Collections have three flavors, with two of the three included in the box!




1 x Christmas Keychain




1 x Christmas Lanyard

If you want to get free Axi 12000 Christmas Gift Set, you can join our Discord group to see how to get one.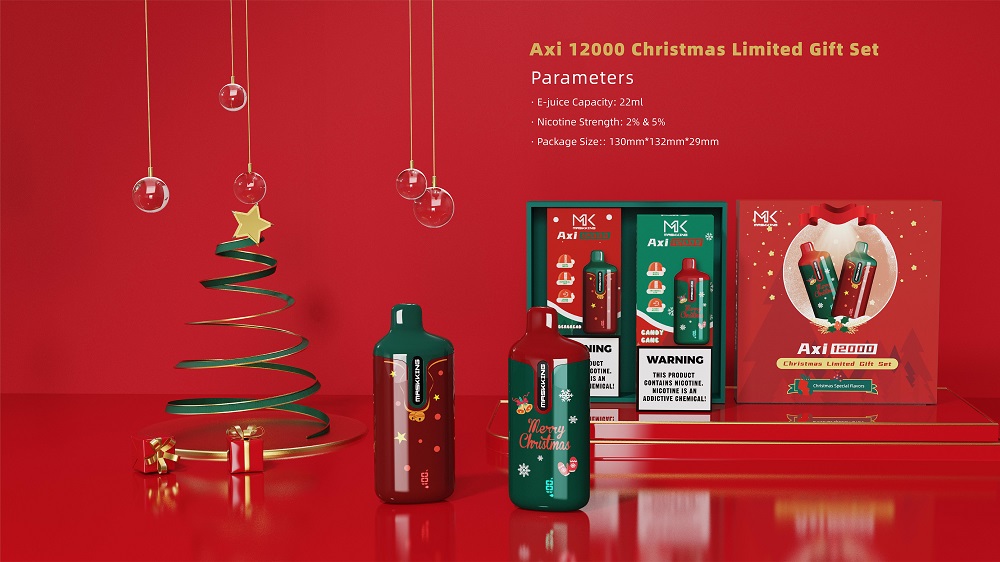 Key Features of the Axi 12000 Disposable Vapes:



Dual Mesh Coil Technology
Immerse yourself in the smooth and rich flavors of Maskking dual mesh coil technology. Dual mesh coils working alternatively ensure optimal heating, delivering layers of consistent best flavors with every puff. This vaping experience provides a sensory journey and maximizes your holiday joy.
12000 Super Big Puff
The impressive 22ml e-juice of Axi 12000 capacity will definitely elevate your experience with sheer indulgence. This big capacity guarantees an uninterrupted vaping experience, allowing you to savor the festivities without the worry of running out. Unleash abundant clouds of vapor, making every moment of joy even more memorable.
Internal Smart LED Screen
The next feature of the Axi 12000 disposable vape allows you to stay in control and vape with confidence using the internal smart LED screen. Real-time monitoring of battery life and e-juice levels ensures you're never caught unaware. The clear and smooth body also improves both the aesthetic and functionality of the vaping device.
The exclusive Christmas Exclusive Collections are available for a limited time only. So seize the moment to treat yourself or surprise your friends with this gift of exceptional vaping and festive cheer.